I just completed the entire Sherlock Holmes series by Arthur Conan Doyle. My book is the Barnes and Noble collectible leather bound edition.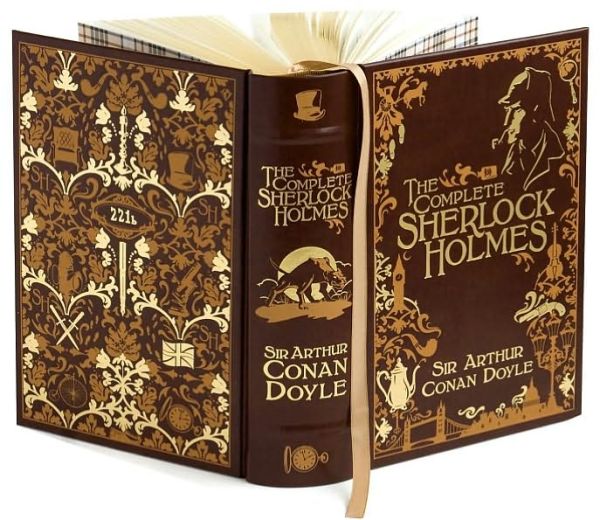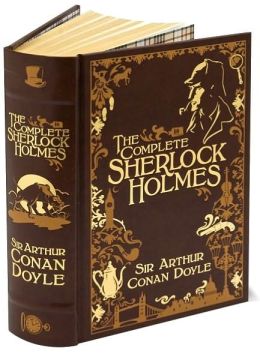 Brown leather bounded with gorgeous illustrations on the front cover, spine, and back cover. If you run your hand over the back cover, the illustrations have a slight embossing to them. The front endpaper and back endpaper are in a plaid design, a few illustrations on the introductory page, but otherwise no other illustrations within the book. The leather itself is not of a high quality like you would have with the Easton Press or Franklin Library editions. Where the Easton Press and Franklin Library have a hard leather, Barnes and Noble is a softer leather. Which I actually like, as it is nice to handle and read. It has a good overall feel to it. The pages are gold gilded, and the book has a attached gold silk-bookmark. Now the pages are thin. This book contains four full-length novels and fifty-six short stories (it reads as nine novels), 1096 pages total. For such a large book the pages have to be thin. Other, smaller, editions in this collection have thicker pages. I don't have any complaints about the paper being thinner, or the font size. The overall book feels sturdy and well made, but because of the massive size of this edition the spine may be weaker, and you might have to handle it a little more gently. My only complaint is that I happened upon a few spelling errors throughout the book ...
I highly recommend this edition. It is beautifully crafted, looks amazing on the book shelf, and is a joy to read. The quality may not be on the same scale as Easton Press, but you know what, neither is the price tag. My opinion is that this is very good quality for a very reasonable price.
You can get your own edition here :
Barnes and Noble - The Complete Sherlock Holmes
This edition is still currently available for sale, but a lot of their other editions are no longer available.