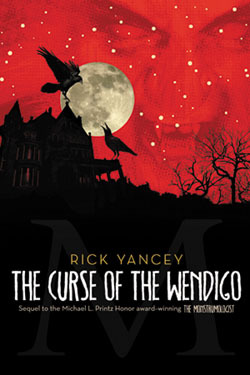 "Outiko is not hunted; Outiko hunts, the Ogimaa had said. You do not call Outiko. Outiko calls you."
The Wendigo, embodiment of gluttony. Never is the appetite satisfied, always hungry and in a state of starvation even after having just gorged. It was believed that one could be turned by a Wendigo, or that one would be made a Wendigo through the act of cannibalism. The Wendigo possessed speed, strength, agility, and the ability to mimic voices in order to lure their victims to their doom.
Despite Warthrop's lack of belief in the existence of the Wendigo, he cannot refuse when he is asked to look for his friend whom has been missing for over a month. His friend was on a mission to prove the theory of the Wendigo but was reported missing and is now presumed dead.
This book was just as good as the first book in the series. Just as gory, just as exciting, just as thrilling, just as scary. It reminds me of a clash up of Dr. House meets Supernatural. I have fallen hard for Dr. Warthrop as a character, and for these books in general. Superb character development, writing, and story telling.
One aspect that I really enjoyed was how Yancey incorporated real people into his story, and gives the impression that the events of this story inspired the creation of other works of fiction. Algernon Blackwood, and Bram Stoker make a appearance.
My Rating: 5 Stars