My copy of
"Dracula"
by
Bram Stoker
is from the Barnes and Noble collectible leather bound edition.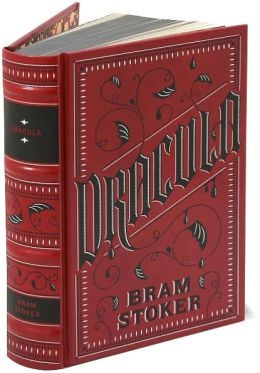 This is from a different collection in the Barnes and Noble collectible leather bound editions. This is the single novel collection, being one book within a book, and slightly smaller and shorter in build then the other books from their collections. A beautiful red leather, with black and silver accents. There are illustrations on the front cover, spine, and back cover (bat wings are pictured, with drops of blood, and white fangs are shown outlining the cover and spine). The front and back end papers are a beautiful marble, and the outer pages are tinted a ashy grey. The pages are very thick in this book, and appear to be of good quality. A red silk-bookmark. On the back cover is a quote taken from the book
"Listen to them, the children of the night. What music they make!"
. No illustrations in the book. A absolutely gorgeous book, lovely to read and to showcase. I bought my edition for $10.00 (amazing value for the price!) through Barnes and Noble, but this edition is sadly no longer available for sale. They now have available, a inferior soft covered edition of this title, and no longer offer this beautiful hardcover edition.