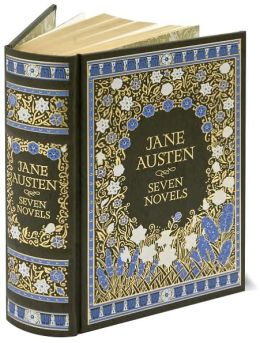 My edition of
"Sense and Sensibility"
by
Jane Austin
is the Barnes and Noble collectible leather bound edition, a complete work of her seven novels. I prefer my books being in single novel form, but this is indeed a beautiful edition. The book is bound in a green leather, with blue, white, and gold embossing on the front cover, spine, and back cover. Gold gilded pages, with a gold silk book-mark. Beautiful front and back end-papers are designed in a green and yellow flower pattern. No illustrations. This is a massive book, so a little awkward to hold and read, but also a nicely crafted edition.
This edition happens to still be available through Barnes and Noble. You can buy your own copy by following the link provided below.
Barnes and Noble - Jane Austin