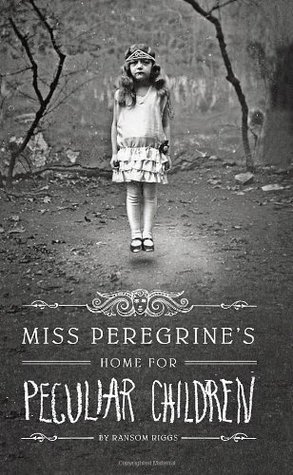 "Miss Peregrine's Home for Peculiar Children" has been one of those books that I have been chomping at the bit to read. I have heard a lot of people raving about it, the summery sounds oh so weird and oh so very delightful, and the fact that Ransom Riggs incorporated real photographs into the book was simply mind blowing. I decided that this was the month that I was going to read this book, and read it I did. I was hugely disappointed and let down.
Right off the bat I wasn't a big fan of Ransom Riggs's writing. It was mediocre at best. In fact, it felt like without the pictures strewed within there would be no story to tell at all. Much as I like the idea of writing a book based on peculiar pictures and telling a story through them, not to mention the uniqueness about the entire setup, it felt like the pictures were being forcefully manipulated into the story. Rather then the words telling the stories, the pictures were. The words being forced to coexist with the photographs. The photographs are supposed to illustrate the story, but what happened is that the story was stretched out of shape in order to incorporate the photographs. I wonder if Riggs's writing would be more flattering in a different light, without him trying to make it fit into this format.
The story itself ... I love stories where the characters have superpowers. X-Men is fantastic, and if I can read a book that is based on that whole premise then of course I am going to read it. "Red Queen" by Victoria Aveyard has been one of my favorites, while "The Darkest Minds" by Alexandra Bracken has been one of my lesser so. The difference? The quality of the writing for starters, but also the mature level. "Red Queen" read more like a adult fantasy in my opinion while "The Darkest Minds" had a very clear juvenile under tone to it. That is what this book reads like. It is just cast as too immature for my tastes.
The premise of the book was interesting for the most part, but not nearly as interesting as it could of been. I feel like Riggs's, in a attempt to distance himself from the entire premise of X-Men, tried making enough changes to the story that there wouldn't be cries of copy-cat shouted from the roof tops. X-Men is far more interesting then this.
None of the characters had any ... well character to them to be quite frank. You never develop any connection or relationship to them. And there was a very disturbing romance in this book that left a rather unpleasant taste in my mouth.
My Rating: 3 Stars